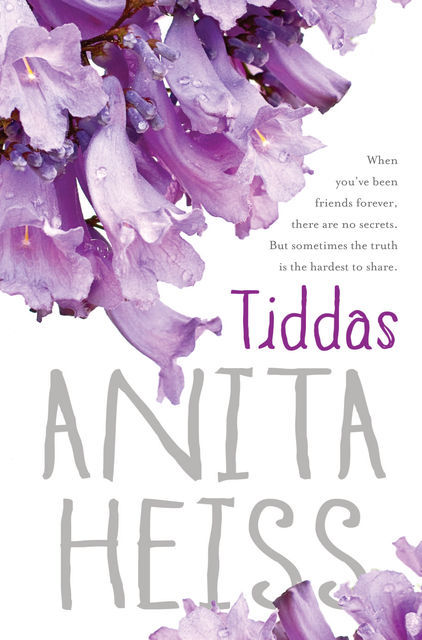 Anita's latest novel is Tiddas!
This is a story about what it means to be a friend?

Five women, best friends for decades, meet once a month to talk about books ? and life, love and the jagged bits in between. Dissecting each other?s lives seems the most natural thing in the world ? and honesty, no matter how brutal, is something they treasure. Best friends tell each other everything, don?t they?

But each woman carries a complex secret and one weekend, without warning, everything comes unstuck.
Izzy, soon to be the first Black woman with her own television show, has to make a decision that will change everything. Veronica, recently divorced and dedicated to raising the best sons in the world, has forgotten who she is. Xanthe, desperate for a baby, can think of nothing else, even at the expense of her marriage. Nadine, so successful at writing other people?s stories, is determined to blot out her own. Ellen, footloose by choice, begins to question all that she?s fought for.
When their circle begins to fracture and the old childhood ways don?t work anymore, is their sense of sistahood enough to keep it intact? How well do these tiddas really know each other?
Anita talks about Tiddas!
* Anita talks to Caroline Baum (on camera) for Booktopia
* Tiddas is book of the Week on ABC702 - podcast
* Books and Arts Daily, Radio National.
* Anita speaks about TIDDAS on ABC Speaking out soundcloud
* Anita yarns with Julie McCrossin on QANTAS inflight radio
* Anita on Friendship, being 40 and Tiddas at The Hoopla.
* Tiddas, Friendship and Change in Deadly Vibe.
* On video here's Anita talking about the book!
* Anita talks to author Sara Foster at her blog.
* Anita does a Q&A with Annabel Smith for Australian Women writers.
* Anita is interviewed on 98.9FM.
* Newcastle Herald story by Rosemarie Milsom
* Lost In a Good Book blog on Charlestown Library event
* So, you want to be a writer podcast for Australian Writers Centre
* Anita talks to Lisa Heidke at her blog.
* Player Profile at Boomerang Books
* Anita Heiss on women, friendship and fiction, Radio National Books +
* Rethinking Chick Lit with Evana Ho
* Meet the Local Literati in C!AO magazine
* Ross Hamilton interviewed Anita on writing TIDDAS
* Anita in conversation and Melbourne Writers Festival 2014.
Reviews and article on Tiddas
* Similarity in diversity - Karen Hardy (The Age, SMH, Canberra Times)
* The Hoopla - Meredith Jaffé
* The Newtown Review of Books - Michael Jongen
* Mouths of Mums - reviews by a community of readers
* Review by Jenny Schwartz
* Lip Magazine - Lou Heinrich
* Brisbane by the Book bmag by Laura Brodnik
* Angela Ryder for Noongar Radio.
* Lisa Walker blog
* Adding political flavour to 'choc lit' - Sydney Morning Herald
* Michelle Evans - blog
* Cathy Shay on the Tiddas tour of The Hunter.
* Lauren Murphy on the Australian Women Writers Challenge.
* The Traveling Unicorn reviews Tiddas.
* Library Thing reviews by members.
* Caty J reviews Tiddas for AWW.
* Write Note Reviews Tiddas.
* What defines the 'great Australian novel'? (with mentions of Tiddas)
* Projected Happiness reviews Tiddas for the Australian Women Writers Challenge
* Write or Wrong- review for the Australian Women Writers Challenge

* Tiddas - a book with flowers on the cover - by Maureen Helen
* Reading Readit ? Can the bonds of sisterhood survive the truth? by Karen O'Brien Hall
You can buy a copy of Tiddas here:
Book Depository ships worldwide for FREE. Buy here!
Tiddas is available on Kobo!
Anita is constantly touring... to see where you can get your autographed copy, click Upcoming Appearances.